Snake and Reptile shows Melbourne, kids snake parties Melbourne and reptile snake shows Victoria, kid's reptile parties Melbourne, Kids reptile shows Melbourne, Snake catcher Melbourne, Corporate shows Melbourne, Snakebusters reptile parties, Melbourne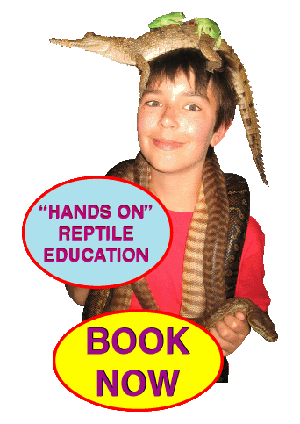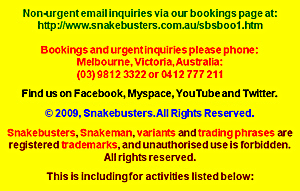 Snakebusters are the most frequently demanded reptile show in Victoria for several reasons. The owner of Snakebusters is Australia's Snakeman, Raymond Hoser, author of nine books and hundreds of definitive reptile papers. Among his achievements are the discovery and naming of numerous species of reptile. Raymond Hoser even named the world's longest snake, the Asian genus Broghammerus, the best known species being the Reticulated Python, now known to the world's scientists as Broghammerus reticulatus. Raymond Hoser has taken naming rights to taxa as diverse as Rattlesnakes (about half the named genera), Cobras (all the spitters), Death Adders (9 of 15 named species) and many other reptile species. Snakebusters were the first company in the world to take OH and S with venomous snakes seriously, by devenomizing all show snakes, thereby securing the snake's welfare at the same time, by removing the need for brutality with sticks, tongs and other handling devices.
In Victoria, Snakebusters reptile displays are the only company who allow everyone to hold the reptiles. The best you get elsewhere tends to be a fleeting touch or what they call, wildlife close.
Snakebusters specialize in expos, school incursions, and locally kids parties in Melbourne, reptile parties in Victoria, birthday parties in Melbourne, educational incursions in Melbourne schools, reptiles for hire, reptiles for film and TV in Australia, reptiles for television shows in Australia, scientific research on reptiles, reptile photos, reptile information, snake catching Melbourne, snake handling Melbourne, snake removal Melbourne, snake handling courses, snake control Melbourne, snake safety awareness displays, snake removalist work in Melbourne and pretty much everything else you can think of in terms of reptiles.
Snakebusters, snakebuster, snake man and snakeman are four of many registered trademarks for:
| | | | | | | | | | | | | | | | | | | | | | | | | | | | | | | | | | | | | | | | | | | | | | | | | |