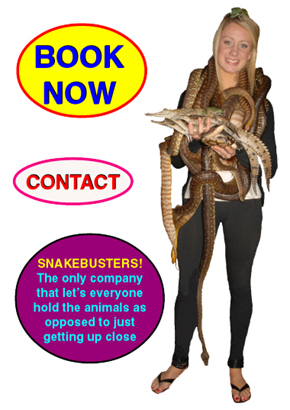 Snakebusters® are Australia's best reptiles!® ... Yes it is official!
In a rare move, the Australian government has given Snakebusters the trademark "Australia's best reptiles" for pretty much everything in the reptile business.
The trademarks office confirmed that the Snake Man Raymond Hoser and his company Snakebusters were Australia's best reptile educators in schools, parties, events and elsewhere and did the best snake handling courses, school wildlife incursions, mobile reptile displays and similar.
In order to get this coveted trademark, Snakebusters were able to show that:
1 – They were measureably and quantifiably better than all others.
2 – Prove other providers, educators, reptile experts and the public unanimously agreed that Snakebusters were superior to anyone else in the reptile/wildlife industry.
3 – Confirm Snakebusters had better expertise, safety, courses, teaching, entertainment and education outcomes.
In registering the trademark, the government has given Snakebusters a legally enforceable exclusive right to claim being "The best" in the Australian reptile education, teaching, courses, entertainment, displays, conservation and breeding industries.
The trademark is significant as a breach of it by an inferior company or person isn't just a breach of trademark laws, but also a criminal offence under the Federal Trade Practices Act.
This trademark gives the Australian public legal protection in that if they see an advert for "Australia's best reptiles", that is what they will get.
Areas Snakebusters were measureably better than all others included:
1/ Australia's only hands-on reptile shows and courses that lets people hold the animals.
2/ The only guaranteed safe venomous snake shows, because only Snakebusters have vet certified surgically devenomized snakes.
3/ Superior animal welfare, as devenomized snakes are never attacked with sticks or tongs when handled.
4/ More verifiable expertise than all other industry players, with the Snakeman Raymond Hoser alone being at the leading edge of Australian reptile science for more than 40 years. This all being confirmed via major published books, papers, scientifically named species, etc, cited as authoratitive by others.
Inexperienced imitators are now prohibited from falsely claiming they are "the best", "better" or anything else deceptively similar to the trademarked words, which now are exclusively identified as belonging to Snakebusters and Snake Man Raymond Hoser.
If you see any other provider of reptile shows, kids parties, school incursions, snake handling courses or similar claiming in any way to be "the best" who is not Snakebusters, let us know and we'll stop them.
We will not allow people to be misled by rogue operators selling inferior product.
Demand Australia's best reptiles – Snakebusters!
Why did Snakebusters competitors make sworn legal statements stating that only Snakebusters were Australia's best reptiles?
© 2004-2021, Snakebusters®, independently rated as Australia's best reptiles®. All Rights Reserved.
Snakebusters®, Snake Man®, Reptile Parties®, Snake Catcher®, variants and trading phrases like, Hold the animals®, Hands on reptiles®, Handle the animals® and others that accurately describe our business are all registered trademarks in Australia and internationally. Unauthorised use is forbidden. We will take legal action for breaches by persons selling or linking to inferior product using these trademarks, and/or otherwise engaging in misleading and deceptive conduct! This is including for activities indicated underneath:
Melbourne | |