Wildlife displays, school incursions, Snake shows Melbourne, reptile shows Victoria, kid's reptile parties Melbourne, Kids birthday party Melbourne,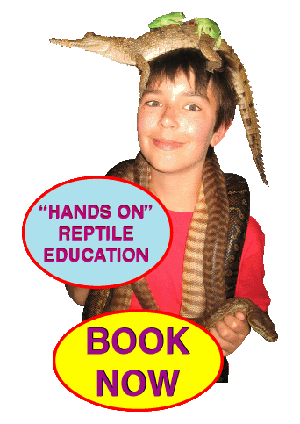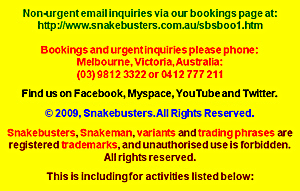 Snakebusters® are the most frequently demanded reptile show in Victoria for several reasons. The owner of Snakebusters is the globally recognized Snakeman, Raymond Hoser, author of nine books and hundreds of definitive scientific reptile papers. Among his achievements are the discovery and naming of more species, genera, tribes and families of snakes than anyone else in the world who has lived since the 1920's, the total being over 20 species, more than 110 valid snake genera (more than anyone else in history), over 20 subgenera, dozens of tribes (more than anyone else in history) and several families (more than anyone else in history)! Raymond Hoser scientifically named the world's longest snake, the Asian genus Broghammerus, the best known species being the Reticulated and Timor Pythons, now known to the world's scientists as Broghammerus reticulatus and Broghammerus (Wellspython) timoriensis. Raymond Hoser has taken naming rights to taxa as diverse as pythons (more species and genera than anyone else in history), over 10 Australian species of snakes and many more subspecies, (Rattlesnakes (about half the named genera), Cobras (all the spitters), Death Adders (9 of 15 named species), Pygmy Mulga Snakes (3 of 4 species), Garter Snakes (about half the genera), Kukri Snakes (10 of 12 genera), True vipers and (non-rattle) pitvipers, tree snakes, keelbacks, small-eyed snakes, sea snakes and various other elapid species, stilletto snakes, more than half the world's Blindsnake genera, ratsnakes, water snakes, mole snakes, dwarf boas (most genera) and more (and from all continents and major landmasses that have snake species) as well as other reptile taxa including lizards, the only scientifically described crocodile species this century and the largest Freshwater Turtle in the United States, namely the Florida Alligator Snapping Turtle Macrochelys maxhoseri Hoser 2013.
Snakebusters were the first company in the world to take OH and S with venomous snakes seriously, by surgically devenomizing all show snakes, thereby securing the snake's welfare at the same time, by removing the need for brutality with sticks, tongs and other handling devices.
In Victoria, Snakebusters reptile displays are the only company who allow everyone to hold the reptiles. The best you get elsewhere tends to be a fleeting touch or what they call, wildlife close.
Snakebusters specialize in expos, school incursions, and locally kids parties in Melbourne, reptile parties in Victoria, birthday parties in Melbourne, educational incursions in Melbourne schools, reptiles for hire, reptiles for film and TV in Australia, reptiles for television shows in Australia, scientific research on reptiles, reptile photos, reptile information, snake catching Melbourne, snake handling Melbourne, snake removal Melbourne, snake handling courses, snake control Melbourne, snake safety awareness displays, snake removalist work in Melbourne and pretty much everything else you can think of in terms of reptiles.
Snakebusters®, Snake Man®, Snake Catcher®, Hands on reptiles®, Hold the animals®, handle the animals®, reptile parties®, Raymond Hoser®, Australia's best reptiles® and variants are registered trademarks in Australia and the United States of America for:
Wildlife displays and the like and scientific research in all parts of the USA and Australia, including Victoria, NSW, Queensland, the Northern Territory, South Australia and Western Australia. The trademarks also cover adult parties Melbourne, childrens holiday programs Victoria, kid's activities, corporate entertainment, snake handling courses, emergency snake removal and handler, reptile shows, interactive exhibitions, school incursions, kids parties Melbourne Victoria.