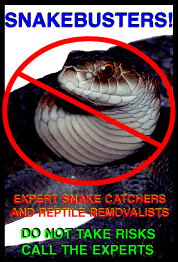 Snake Bite treatment, Snakebusters® Melbourne, Victoria, Australia.
Snake prevention by killing snakes is illegal. Note it is also dangerous for an inexperienced person to try to handle or kill a venomous snake for the purposes of snake prevention.
That is how people get bitten.
Snake bite treatment is as follows:
In Australia the only venomous snakes that are dangerous are all elapid (front fanged) species. This includes all the sea snakes as well.
Snakes cannot be accurately identified on the basis of colour alone and unless an expert, reliable identification of species is not possible or necessary for effective first aid and treatment.
If a bite happens or is suspected, the patient should have a tight pressure bandage applied to the affected limb, applied from the trunk to the periphery in order to stop movement of lymphatic fluid.
The patient should then be immobilized as much as possible and taken to hospital as fast as possible, either by car or ambulance. If possible, make phone contact with the ambulance service or hospital as soon as possible.
If first aid is applied at the time of bite (within seconds of it), survival is likely, no matter what species has bitten. Any delays in first aid, dramatically reduce the chances of survival.
It should be noted that venomous snake bites are usually not painful. They just kill you, so if you wait for pain to occur before applying first aid, you may in fact die first!
Hospitals in Australia usually have access to quality antivenoms that work well!
However the best snake bite treatment of all is not to be bitten. To avoid a bite, avoid snakes. It is that simple.
If you have a snake on your property that you need removed, call an expert snake catcher.
Snakebusters are the 24 hour snake prevention and removal experts!
Don't take risks - call Snakebusters® to remove snakes and for all your snake awareness and prevention advice!
Live shows, events, parties, toolbox talks, school incursions - click here.
24 hours a day, all Melbourne suburbs and nearby
(See: Our terms and conditions). PHONE: 0412 777 211 or
(03) 9812-3322.
(Government licenced snake prevention and capture)
See below for details. Melbourne, Victoria, Australia, all areas, 0412 777 211
For the capture, handling and removal of snake/s.

Click here for a free leaflet on the safe prevention of snake incursions to your property