Reptile Party ®
Scam Warning!
Fake Google Adverts!
Scammer webpages!
Trademark infringing thieves are trying to scam you with inferior and unsafe wildlife displays!
They illegally place adverts on Google triggered by searches for our registered trademarks Reptile Party ® Snake Man ®, Reptile Parties ® or Snakebusters ®.
When you click through the adverts you are then diverted to slick, outwardly legitimate, but illegally operated websites run by thieves pretending they are us or otherwise deceptively similar to us.
These people are not us or associated with us in any way!
When caught out unlawfully bootlegging our brands, Reptile Party ® , Snakebusters ® , Reptile Parties ® or Snakeman ® these scoundrels mascquerading as us make false and defamatory claims against us in order to divert potential clients to their usually unsafe alternative.
The fake "Reptile Party" adverts (examples of which are shown here), are illegal under consumer laws, trademark laws and also in breach of Court orders issued by the Federal Court and Magistrates Courts (see examples posted elsewhere on our websites).
The scammers taking out the illegal Google adverts as shown on this webpage are nothing more than law-breaking thieves.
Remember who they are by name, as they are crooks and you don't want to deal with them!
These liars and cheats offer potentially unsafe wildlife displays and because they steal from us, they'll steal from you if they see an opportunity (see examples below).
The cost of dealing with one of these trademark infringing fakers may be far more than they quote over the phone.
One man working with the trademark infringing imitators, Matthew Gatt was convicted and fined $8,000 in March 2019 at the Melbourne Magistrates Court after committing theft at a Reptile Party three months prior!
And he is only of several criminals associated with the trademark infringing thieves who have been busted for acts of theft and related offences and been hit with fines and/or restraining orders by the courts!
Problem is, these crooks are experts at evading the law, they ignore court restraining orders and keep placing their illegal adverts to snare their next victims.
In court they plead bankruptcy to avoid repaying their victims...
The Snakeman ®, Raymond Hoser ® owns the registered trademarks for Reptile Party ®, Reptile Parties ® and Snakebusters ® and has owned the trademarks for decades.
This means that no one else is allowed to trade or use these words as a badge of origin or as a trigger for Google adverts marketing any form of wildlife show or snake catching service.
Unauthorised use of the trademarks in Google Adverts as seen in the examples on this page is an even more serious crime!
If there is not the ® trademark symbol on the advert or the webpage immediately next to the words Reptile Party, Reptile Parties, Snakeman or Snakebusters, and you deal with them, then you have been scammed. It is that simple.
Do not be fooled by slick looking webpages, bogus information and fake five star testimonials by the unsafe imitators.
These people ripping off our Reptile Party ® or Snakeman ® brands are nothing more than law-breaking thieves.
So who are these copycats, thieves and the owners of the scamming businesses?
They include the likes of Seth Pywell, recently convicted and fined with a friend for shooting two potential clients.
Then there is Damien Mark Harding and Andrew Browne, both operating in the wildlife displays or snake handling business and both separately charged and convicted as child sex offenders.
Yes the victims were their clients!
These could have been your kids if you had done business with them.
There is David John Williams, convicted and fined $7,500 for animal cruelty and aggravated animal abuse. And there are others who have committed similar crimes against children and animals.
Another imitator unlawfully attacking the Reptile Party ® and Snake Man ® trademarks is the notorious Jamie Benbow. He is best known as a large-scale trafficker of Methamphetamines including ecstasy, with numerous criminal convictions and having served jail time for some of the crimes he's committed. Since being released from jail, he has continued to act outside the law and established a reputation for trolling the internet using various accounts to undermine the Snakebusters ® and Reptile Party ® brands in order to divert clients to unsafe imitators in his cohort.
Do you really want an ecstacy dealer and his cohort entertaining your children?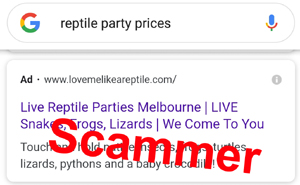 Unfortunately most of these criminals are now out of jail and back on the streets.
This is where they and their cohort are back to doing what they do best, which includes things like taking out illegal Google adverts, ripping off our Reptile Party ®, Snakebusters ® or Snakeman ® brands, dealing in drugs that kill innocent children, assaulting people, engaging in animal abuse and wildlife crimes and if they can, stealing from you or your kids.
Clicking on trademark infringing adverts placed by fake reptile parties ® or imitators of the Snakeman ® will get you bitten!
They will bite you in more ways than one!
Demand authentic reptile parties ® to keep you and your kids safe.
Remember, only the Snakeman ® and the authentic reptile party ® shows have the expertise to have vet certified devenomized snakes in order to keep you and your family safe.
Why risk it with a lawless imitator?
And remember, only authentic reptile parties ® are hands on ®, which means only authentic reptile parties ® always let people hold the animals®.
Only authentic reptile parties ® have been doing live reptile displays since the 1970's and only the Snakeman ® and his team of experts can boast more than 40 years with a perfect safety record.
If you have already booked with a scammer, don't risk it!
Don't tolerate their lies and deception!
Cancel the booking, demand your money back and protect your children!
Recently Snakeman ® Raymond Hoser ®, Snakebusters ® and the Reptile Party ® have successfully sued trademark infringers in the Federal Court, Magistrates Court and VCAT on several occasions and most of the time, the scamming serial offenders have pled bankruptcy and hidden their assets from the court. This has made it effectively impossible for us to recover damages.
In these matters, we got orders against the thieves, but the court does not have power to take money from them (as they have pled bankruptcy) and so we get left with a legal bill. With this knowledge the offenders continue to place illegal adverts or get their friends to do so at their instigation.
Reptile Parties ® - Main webpage,
Imitator convicted and fined $8K after act of theft at Reptile Party in December 2018.
Animal abusers lose trademark battle against Snakeman ® Raymond Hoser (2018).
Trademark infringing thieves fail in Federal Court challenge to the Reptile Party ® and Reptile Parties ® Trademarks (2017).
Thieves working for trademark infringers busted on camera at Reptile Party ® event get court orders against them (2013).
Wildlife education company, Snakebusters ® gets honoured with a new species of viper named after them! ... Montivipera snakebustersorum (2016).
Raymond Hoser is the Snakeman ®. Details of his critically important wildlife conservation work is here.
Non-urgent email inquiries via:
The Snakebusters bookings page.

Urgent inquiries phone:
Melbourne, Victoria, Australia:
(03) 9812 3322 or 0412 777 211
Wildlife conservation, research and education, including the world's best teacher's resources.
Copyright, the snake man®. All rights reserved. Snakeman ®, snake man ®, Snakebusters ®, Snakebuster ®, Reptile Man ®, snake removal ®, snake catcher ®, snake avoidance ®, snake aversion ®, snake handler ®, reptile parties ®, reptile party ®, hands on ®, hands on reptiles ®, handle the animals ®, hold the animals ®, Australia's best reptiles ®, Reptile Shows ®, Melbourne Reptile Shows ®, Raymond Hoser ®, Australasian Journal of Herpetology ® are registered trademarks in Australia, the UK and USA and owned by Raymond Hoser. Unauthorised use, including as a trigger for Google Adverts, on webpages of unsafe imitators, via backlinks of third parties and any other misleading and deceptive conduct is forbidden.