Consistently rated as Australia's best "hands-on" snake and reptile lectures and shows, consulting, venomous reptile show, etc.
From this page you should be able to access all other Snakebusters pages.
It is wise to bookmark this page as you may wish to use it again
Please scroll through this entire list before making a selection.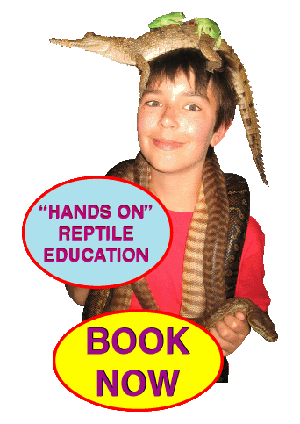 All snakebusters shows, displays, incursions, reptile demonstrations, kids parties, live reptile handling, etc.


Emergency snake removal, snake prevention, bite prevention, treatment, etc.


Surveys for corporates, reports, research papers, court case expert witness, etc.


Venomous snake handling courses, reptiles as pets, other reptile education.


Reptiles for hire, TV, media, photos and photo sales, etc.


Snakebusters news archive, media releases, upcoming events and similar.


Free downloadable Snakebusters videos, CD-rom, Video and DVD sales.


Venomoid (surgically devenomized snakes), FAQ's, papers, etc.


Miscellaneous Snakebusters sites (not readily placed in other links here).


www.raymondhoser.com, www.smuggled.com and other relevant sites.
Includes links to all 9 books by Snakeman Raymond Hoser, over 150 definitive papers, scientific journals, etc.


Fine print ...
Terms and conditions of bookings, website legal statements, trademark rights asserted, Police checks, WWC Checks, Licences, risk assessments, insurances, ethics commitee approvals, intellectual property, etc.


Snakebusters booking and contact page.


Non-urgent email inquiries:
Via our bookings page.

For urgent inquiries please phone: (Melbourne, Victoria, Australia):
(03) 9812 3322 or 0412 777 211